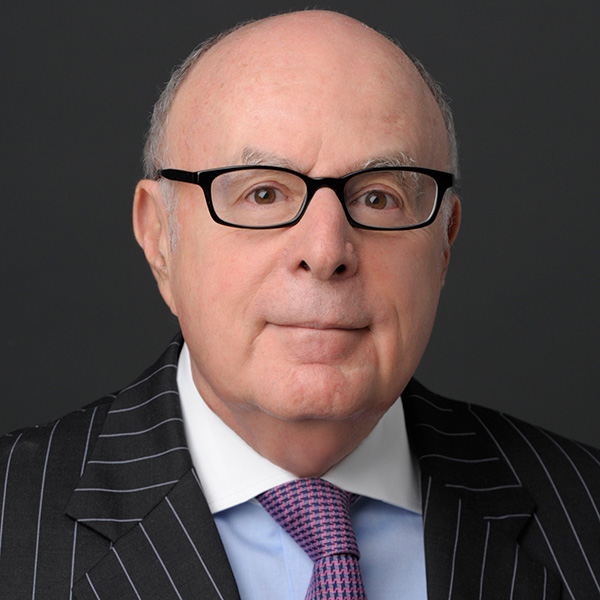 Bart Friedman
Senior Counsel
Practices
Education
Harvard Business School, 1969-1970, D.B.A. Program
Harvard Law School, J.D., 1969
Long Island University, A.B., 1966, summa cum laude
Admissions
Bart, now Senior Counsel at Cahill Gordon & Reindel LLP, has been at Cahill for close to 45 years. During his tenure as a Partner, he had chaired most committees at the firm.
He advises the Boards of Directors of public companies, and is serving or has recently served in his personal capacity on three separate public company boards, and has served and continues to serve on the boards of several non-profit institutions.
Bart is currently serving as the Senior Advisor to Concordia and the Lead Director of Ovid Therapeutics. He recently completed his term as Chair of The Sanford C. Bernstein Family of Mutual Funds and stepped down as the Lead Independent Director and Deputy Chair of Swiss based Allied World Assurance Holdings after the sale of Allied World to Fairfax Financial.
Bart serves as Chair of the Audit Committee of the Board of The Brookings Institution (where he had previously served as Chairman of the Nominations and Governance Committee and as Chair of the Public Responsibility and Ethics Committee); as Chairman of the Audit Committee of the Board of Lincoln Center for the Performing Arts (and as Chair of the Personnel Committee); and as Treasurer of the Board of the Cooper Hewitt Smithsonian Design Museum. Bart serves on the Executive Committee of all three institutions. He has been elected Chairman of the Works and Process Series at the Guggenheim Museum.
Bart is an active member of the Council on Foreign Relations and serves on its Membership Committee and has travelled globally on behalf of the Council on Foreign Relations, as well as serving on various Task Forces conducted by the Council.
Bart previously served as Vice Chair of the Board of The Juilliard School and as a member of the Visiting Committee for Harvard University's Graduate School of Education.
Bart graduated from Harvard Law School and served for one year on the Research Faculty of Harvard Business School. He lives in New York with his wife, Wendy A. Stein, who works in the Medieval Department of the Metropolitan Museum of Art. Wendy is on the Board of the New York Common Pantry and had served as the Chairman and Vice Chairman of that Board. They have two grown sons, Benjamin and Jacob.