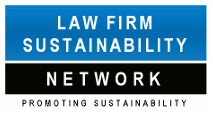 Like many of our clients, Cahill is committed to an environmental sustainability program within our offices and has undertaken a number of initiatives to reduce resource consumption and our carbon footprint. Cahill also is an active participant in the Law Firm Sustainability Network, whose members seek to enhance their environmental efforts through cooperation and sharing of ideas, and to raise awareness of sustainability issues within the law firm community. 
Cahill's Sustainability and Green Initiatives
Waste Reduction:
Recycle all glass bottles, aluminum cans, plastic, paper, paper products both at the firm and by using a disposal vendor who sorts and recycles all material at the waste facility.
Replace plastic food service items with paper/recyclable products.
Provide reusable containers for drinking water to all employees and replace bottled water with filtered water where possible. Serve filtered water in pitchers at conferences.
Encourage double-sided printing of documents and scanning and electronic storage of documents.
Recycle toner cartridges, computer and other electronic equipment.
Earth Day electronics collection and recycling of personal items.
Energy Reduction:
Use more energy-efficient light bulbs in all existing light fixtures where available.
Use sensors to turn off lighting in unoccupied offices, corridors and common areas and use timers to turn off lighting at night.
Purchase energy efficient equipment (Energy Star) wherever possible including computers, printers, copy machines, kitchen appliances.
Automatic use of energy save mode on all PC monitors, printers and copy machines to save energy when not in use.
Reduction in the number of physical servers in our data center through utilization of Server and Storage Virtualization initiative, thus reducing overall electrical usage.
Replacement of all IT servers with more energy efficient models.
Deployment of energy saving software on all office PCs.