Cahill Earns Top Rankings in Debtwire FY 2019 League Tables
Date: 01/09/20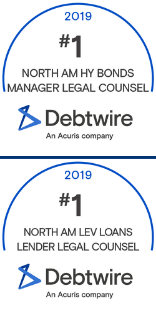 Cahill's capital markets and lending practice earned the top spots in a multitude of debt categories in Debtwire's League Tables for the full year 2019, showcasing the firm's aptitude as legal advisors to underwriters across the diverse field of debt securities.
Cahill swept the #1 spot across all Lead Banks' Counsel league tables for the different types of North American leveraged loans. Categories included leveraged loans, M&A leveraged loans, buyout leveraged loans, institutional leveraged loans, M&A institutional leveraged loans, and buyout institutional leveraged loans. Between all 6 categories, Cahill captured between approximately 29.5% and 44% of the market share, advising lead arrangers on 542 deals and generating more than $426 billion in aggregate proceeds across all leveraged loans.
Cahill also topped the North America High-Yield Bonds Managers' Legal Counsel league tables by volume, maintaining its prominent 2018 positions and leading the way with 180 deals between high-yield bonds, M&A high-yield bonds, and buyout high-yield bonds. Cahill owned between approximately 30.2% and 53.5% of the market share and generated more than $128.2 billion in aggregate gross proceeds for initial purchasers and/or underwriters.
In Western Europe, Cahill ranked in the top 5 of Lenders' Legal Counsel for High-Yield Bonds, as well as M&A Lenders' Legal Counsel.