Cahill Ranked Among the Nation's Elite Law Firms by The Legal 500 2019
Date: 05/30/19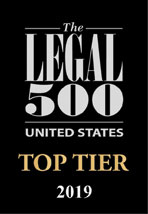 The Legal 500 United States has again ranked Cahill among the nation's elite law firms in its 2019 edition, recognizing the firm in the following categories: Antitrust, Capital Markets, Commercial Lending, General Commercial Disputes, Insurance, M&A, Media, Technology and Telecoms, and Securities Litigation. Thirty nine individual Cahill attorneys have also been recognized in the latest edition of the guide.
Cahill's high-yield debt practice is again the sole tier-one firm ranked in the 2019 edition, describing the firm as "in a league of its own" and as "the indisputable leader in underwriter-side representations." Cahill was also ranked in the top firms for debt and equity offerings.
The Legal 500 recognizes Cahill's commercial lending practice as tier-one. With respect to middle-market M&A (under $500 million), Cahill was also ranked tier-one among the top twelve firms nationally. Cahill was also ranked tier-one for its securities litigation practice. Within the Insurance: Advice to Insurers practice group, Cahill was ranked as a tier-two firm.
The firm's Washington, D.C. office was recommended for its regulatory and transactional work within Media, Technology and Telecoms.
Now in its thirty-second year, The Legal 500 is an independent guide that surveys and interviews over 300,000 clients annually worldwide. Firms and individuals are recommended purely on merit. It designs its rankings to truly reflect the needs of corporate counsel by focusing on the strength and depth of the teams (practice and associates) rather than simply individual partners. A full description of the selection methodology may be viewed below on The Legal 500 website.